Vegan Cooking

This page details just a few ideas when thinking about eating Vegan ... Within the recipe lists if you click on one that looks interesting it will take you straight to the recipe, or if you'd like to take the scenic route just keep scrolling down :-) Happy Cooking
Just before I list the recipes, here's a quick reminder of the differences between Vegans and Vegetarians
What's the difference between vegans and vegetarians?
There are different types of vegetarian diets:
'Pescatarian' vegetarians avoid eating any type of animal flesh, except for seafood.
'Lacto-ovo' vegetarians avoid eating any type of animal flesh, including seafood. (However they still eat dairy products and eggs).
'Ovo' vegetarians do not eat meat, seafood or dairy, but they do eat eggs.
Vegans do not eat any type of animal flesh or seafood, nor do they eat dairy or egg products.
Raw vegans do not eat any type of animal flesh, seafood, dairy or eggs, and they also don't eat food that has been heated above 46 degrees Celsius. Known as 'raw foodists', these people believe that foods cooked above this temperature lose their nutritional value and are harmful to the body.
Essential items for a vegan kitchen cupboard
The following ingredients will feature prominently in any vegan kitchen.
Some of them you will have seen before, but others are more obscure.
Soy milk – it's good to keep some long-life soy (or almond, or oat) milk in the cupboard at all times.
Soy sauce – known as 'Asian salt', soy sauce brings rice, noodles, and vegetables to life!
Couscous – quick and easy to prepare, couscous tastes extra good when made with veggie stock.
Fusili Pasta - simple durham wheat pasta
Rolled oats – packed with soluble fibre, oats are great for breakfast, and also fantastic for making homemade baked treats.
Rice – brown, white, jasmine, basmati: rice forms an essential part of any vegan diet.
Quinoa – pronounced 'keen-wah', this exotic grain has a nutty flavour and is a great source of protein.
Lentils – you can buy them dried (to be added to soups and casseroles), or in tins – to add protein to salads, pasta sauces, and more!
Black eye, kidney, butter beans, chick peas etc – any peas or beans is great to have for a quick jacket potato or making a beans stew
Tinned chopped tomatoes – perfect as a base for pasta sauce, soup, Mexican food and casseroles, chopped tomatoes have a myriad of uses. Totally essential!
Nuts & Seeds – macadamias, almonds, cashews, sesame seeds, sunflower seeds – take your pick – nuts and seeds are nutritious, delicious and packed full of healthy fats.
Spices e.g. chilli flakes, thyme, coriander, – avoiding blandness is the key with vegan cooking, so crack open your spice collection and experiment!
Olive oil – without butter or animal fats, you'll need some good quality vegetable oil for frying and dressing your food.
Apple cider vinegar – this ingredient is often featured in vegan baking.
Maple syrup – makes a delicious alternative to honey. You could also try experimenting with agave syrup (usually found in the organic food aisle of the supermarket).
Dark chocolate – check the label before you buy to make sure it does not contain milk solids. Perfect for baking, or as a yummy snack.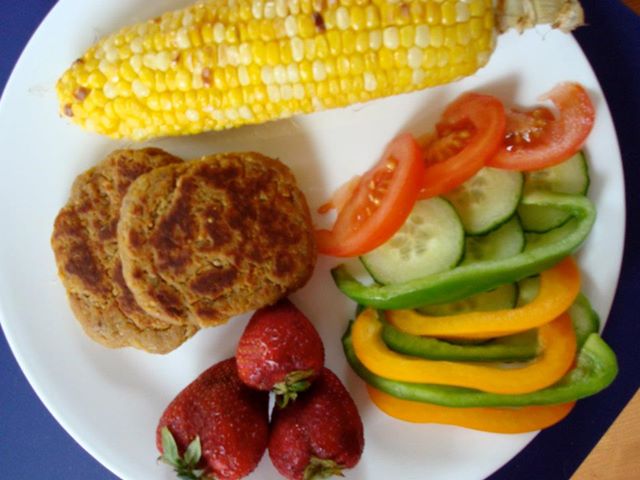 Adapting non-vegan recipes: Egg alternatives
Eggs are used to bind a dish and, when whipped, may also incorporate air making a cake or pudding very light. Vegan egg replacement powders are available from health food shops. This can be useful, especially for tricky foods like meringues. However, many recipes can be adapted using one of the suggestions below. Just remember to bear in mind the final dish... you can't use banana as a substitute when making a quiche!
instead of 1 egg, you can use...
1 tbsp gram (chick pea) or soya flour and 1 tbsp water
1 tbsp arrowroot, 1 tbsp soya flour and 2 tbsp water
2 tbsp flour, 1/2 tbsp shortening, 1/2 tsp baking powder and 2 tsp water
50g tofu blended with the liquid portion of the recipe
1/2 large banana, mashed
50 ml white sauce
tips on raising agents...
use self raising flour
add extra oil and raising agent (e.g. baking powder)
use about 2 heaped tsp baking powder per cake
instead of baking powder, use 3/4 tsp bicarbonate of soda and 1 dssp cider vinegar (good for chocolate cakes)
try sieving the flour and dry ingredients, then gently folding in the liquid to trap air
alternative binding agents...
soya milk
soya dessert - vanilla, chocolate, strawberry...
custard - see below
mashed banana
plain silken tofu
soya cream
sweet white sauce (soya milk, vegan margarine, sugar and cornflour)
agar agar
10-minute meals
Some almost-instant meal ideas for when you've no time to cook.
Pasta and baked beans with dried mixed herbs
Pasta and jar of sauce, vegan pesto or stir-through sauce
Jacket potato with baked beans or houmous
Beans on toast - no explanation on how to make this is needed :-)
Tinned or fresh soup with bread (but watch out for milk and honey in the ingredients)
1. Spicy couscous, chickpea and tomato stew
Serves 2 as a main meal
1 onion
1-2 tsp chilli powder (depending how spicy you like it)
1 x 420g tin tomatoes
1 x 220g tin chickpeas
125g wholemeal couscous
1 stock cube
150ml water
oil for frying
Chop the onion. Heat the oil in a saucepan and fry the onion with the chilli powder for a few minutes until softened. Add all the other ingredients. Bring to the boil, cover, turn off the heat and leave to stand for five minutes. Stir and heat through before serving.
2. Flat mushroom burgers
Make two 'burgers' per person as a meal, one as a snack.
Large flat mushrooms
Henderson's Relish or vegan Worcestershire sauce (optional)
Bread buns
Chilli sauce or tomato ketchup
Bag of salad leaves
Olive oil
Brush the mushrooms with the olive oil and Henderson's Relish if using. Heat them under the grill (or on a barbecue) for a few minutes on each side until tender. Serve in bread buns with chilli sauce or ketchup and salad leaves.
3. Mixed vegetable stir fry with cashew nuts or tofu pieces
Stir fry is your friend when you need a low-effort meal that's also tasty and healthy. They're also a great easy way to boost your vegetable intake.
People who say they don't like vegetables might enjoy stir fry as you can keep the vegetables slightly crunchy and full of flavour - many people are put off vegetables because they're used to boiled, soggy vegetables and it's the texture that puts them off. Using a stir-fry sauce also makes them taste more interesting than plain vegetables.
To make stir-fry, chop your vegetables (or buy pre-prepared ones), heat a bit of vegetable or groundnut oil in a frying pan or wok, fry your ingredients until they're cooked and add stir fry sauce or seasoning of your choice. In the meantime, cook some rice or noodles to go with it.
For a tasty stir fry, you will need:
Vegetables
For an 'instant meal' stir-fry you can buy packs of pre-prepared stir fry vegetables from the supermarket, which often come with a sachet of stir-fry sauce.
If you have a bit more time, use fresh vegetables and chop them yourself - it doesn't take long even then and it means you can choose your own combinations. Plus fresh veg usually tastes better than the packaged ones, especially if you use organic vegetables as they tend to have much more flavour.
Good vegetables for stir-frying include peppers, courgettes, mushrooms, carrots, broccoli, mangetout, sugar snap peas, baby sweetcorn, okra, spinach, aubergine, kale, and leeks. You could also add beansprouts, bamboo shoots or water chestnuts for more of a Chinese flavour. Pick a range of colours to make it look more appetising, for example red pepper, carrot and courgette is a simple but attractive combination. I tend to go for three or four different vegetables in a stir-fry.
Other ingredients
Cashew nuts, pumpkin seeds or tofu pieces are great ingredients for adding to the flavour and nutritional content of stir fries. Cauldron make marinated tofu pieces which don't need to be cooked, you can just throw them in to heat through at the end. Look for them in the chiller cabinets at the supermarket, usually near the chilled vegetarian sausages and ready meals. If you prefer, buy a block of firm tofu (again, Cauldron is the main brand sold in supermarkets), drain off the water, cut it into chunks and marinade it in soy sauce and sesame oil before cooking.
Noodles or rice
If using noodles, choose wheat or rice noodles rather than egg noodles. Many stir-fry noodles only take about three minutes to cook and there's usually a good selection in supermarkets. If using rice, go for the 10-minute brown rice for a speedy meal.
Sauce or spices
Use either a ready-made stir fry sauce or just throw some spices or soy sauce in.
Many ready-made stir-fry sauces are suitable for vegans (check the ingredients though). Blue Dragon label their vegan sachets of stir-fry sauce as suitable for vegans, which makes life easier.
Alternatively, for a lighter meal you can add flavourings such as soy sauce or tamari, sesame oil, chopped fresh chillies, garlic and ginger, ground coriander, ginger or chilli powder, tamarind paste, spice grinders with a combination of dried spices - whatever you fancy really!
For a really quick stir-fry I just use a bit of soy sauce, sesame oil and ground ginger.
4. Quick Vegemince Spaghetti Bolognese
Makes two servings. This is a good recipe for freezing, so if you only need one portion you can freeze the other portion for later.
1 onion (optional)
1 x 400g tin chopped tomatoes
75g-100g frozen soya mince
1 vegetable stock cube
a few tablespoons water
vegetable or olive oil for frying
wholemeal spaghetti
Optional extras: frozen peas, dried herbs, tomato puree, vegan Worcestershire sauce or Henderson's Relish, salt and pepper.
Cook the spaghetti according to the instructions on the pack.
If using, chop and fry the onion in a saucepan. Add the tomatoes, soya mince, stock cube and any extra ingredients, stir and cook over a medium heat for about 10 minutes until the soya mince has softened and absorbed most of the liquid. Add a few tablespoons of water if the mixture becomes too dry. Taste, adjust seasoning if necessary and serve.
If you have more time you can add vegetables to the sauce, such as courgettes, mushrooms, peppers, aubergines or carrots - chop into small chunks and cook them with the onion before adding the mince and tinned tomatoes.
5. Spicy spinach and chickpeas with rice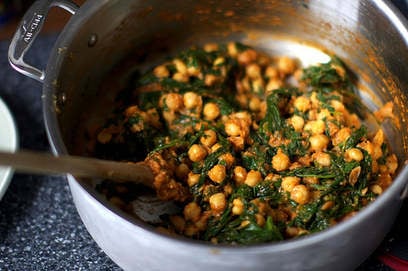 Use brown rice for this recipe, it fills you up for longer and contains more nutrients than white rice. Brown rice normally takes longer to cook than white rice but you can get pre-prepared versions that cook in 10 minutes.
Serves 2
250g spinach
1 x 220g tin chickpeas
1 tsp ground cumin
1 tsp ground coriander
1/2 tsp chilli powder
salt and black pepper
vegetable oil for frying
10-minute boil-in-the-bag brown rice, enough for two people
Cook the rice according to the instructions on the pack.
Heat the oil in a frying pan. Add the cumin, coriander and chilli powder and fry for a few seconds. Add the spinach and fry until almost wilted. Add the chickpeas, black pepper and a small amount of salt, cook gently until the chickpeas are warmed through.
Drain the rice and serve onto plates with the spinach and chickpea mixture on top.
Recipes that Take slightly longer...

1. Butterbean bubble and squeak
2. Chestnut, leek and mushroom pancakes with a tomato sauce
3. Chinese tofu hot and sour
4. Chunky lentil, courgette and red onion soup
5. Ciabatta pizza
1. Butterbean bubble and squeak patties
Bubble and squeak is traditionally made from leftover potato and cabbage, so you don't need to be too precise about quantities, use whatever you've got and however much you want to eat! If you don't have leftovers, cook the potato and cabbage and allow them to cool before making the patties.
Butterbeans do not feature in the traditional recipe for bubble and squeak but I have added them here to make a more complete meal nutrition-wise - and because mashed butterbeans go nicely with mashed potato!
Tinned butterbeans
Mashed potato, cold
Chopped cabbage, cold
Breadcrumbs for coating
salt and pepper to taste (optional)
Mash the butterbeans in a bowl, add the potato and cabbage and mash together well. Add salt and pepper if wished. Take lumps of mixture and form them into burger shapes, coat with breadcrumbs and fry in a small amount of oil for a few minutes until the patties are heated through and the breadcrumbs are golden brown.
2. Chestnut, leek and mushroom pancakes with a tomato sauce
Makes 4 pancakes - serves two as a complete meal, or four if served with side dishes or as a light meal.
Filling:
150g leeks (trimmed weight)
200g mushrooms
150g chestnuts
salt and pepper
Sauce:
1 x 400g tin chopped tomatoes
1/2 tsp salt, pepper and sugar
1 tbsp tomato puree
1 1/2 tbsp balsamic vinegar
Pancakes:
250g plain flour
650ml soya milk
vegetable oil for frying
To make the tomato sauce, place the ingredients in a pan and leave to simmer while you make the rest of the recipe.
For the filling, chop and fry the leeks and mushrooms and cook the chestnuts. How you cook them depends if they are fresh/vacuum-packed/tinned etc., I use the vacuum-packed ones which take about five minutes to cook in boiling water. Mix the filling ingredients together and add salt and pepper to taste.
To make the pancakes, sieve the flour into the bowl and whisk in the soya milk to form a smooth batter. Add a small amout of vegetable oil to a large frying pan, heat the pan and add a layer of batter, turning over when the first side is cooked. This quantity of batter allows for one or two going wrong, which often happens with pancakes!
Place the pancakes on a flat surface, put a quarter of the filling into the middle third of each pancake and fold the sides in over the top of the filling. Pour some tomato sauce over each one and serve.
3. Chinese Tofu hot and sour
A homemade version of one of my favourite restaurant meals. Makes 2 servings
1 x 250g block tofu
1 leek or onion
1/2 red pepper
1/2 green pepper
200g button or chestnut mushrooms
1 courgette
a handful of baby sweetcorn or mangetout (optional)
1 red chilli
1cm fresh root ginger
1 x 125g sachet black bean sauce (or other sauce of your choice - Blue Dragon label theirs as vegan)
vegetable or groundnut oil for frying
rice to serve (preferably brown)
Cook the rice according to the instructions on the pack.
Drain and chop the tofu into chunks and coat lightly with soy sauce. Fry in a large frying pan or wok for about 10 minutes over a medium heat. Remove and set aside.
Chop the vegetables into strips, chop the chilli and ginger and fry until they begin to soften. Add the black bean sauce and the tofu pieces and heat through. Serve with the rice and eat with chopsticks for the 'authentic' experience.
4. Chunky lentil, red onion and courgette soup
Winter warmth. Serves 2-3 as a main meal.
1 red onion
1 courgette
4-6 tbsps vegan red wine (optional)
3 tomatoes
200ml red lentils (measure them in a measuring jug)
600ml vegetable stock
1 tsp dried thyme
1 tsp dried oregano
Chop the onion and fry gently in a saucepan until soft. Add the wine if using. Cut the courgette into chunks, add to the onion and sweat for 10 minutes until soft. Skin and chop the tomatoes (dropping them in boiling water gets the skins loose) and add to the mixture. Add the herbs, lentils and stock, bring to the boil, cover and simmer for 30 minutes.
5. Ciabatta pizza
Ciabatta pizzas are great, easy alternative pizza - you can cook them under the grill, you don't have to mess about making pizza dough and the bread often tastes nicer than shop-bought pizza bases.
A serving size is about 1 pizza (i.e. one half of a ciabatta loaf) if you're serving it with other things and about 1 1/2 pizzas on their own.
Ciabatta loaf
Toppings of your choice. The pizzas in the photo (taken before they went under the grill) are:
Tomato stir-through pasta sauce
Green peppers
Tomatoes
Mushrooms
Kalamata olives
Vegan cheese slices (Cheezly super-melting mozzarella-style slices)

Vegan pesto
Artichoke hearts (from a jar)
Pine nuts
Mushrooms
Kalamata olives
Tomatoes
Thinly slice the peppers, mushrooms and tomatoes (thinner slices mean they cook better under the grill). Slice a ciabatta loaf in half lengthways and grill the underside until slightly crispy. Spread the pasta sauce or pesto onto the top of the ciabatta, arrange the toppings and grill until the toppings are heated through and have softened.
6. Couscous and roasted vegetables
This recipe makes a great, simple main meal or a popular, colourful buffet dish.
Wholemeal couscous (see below for quantities)
A selection of roastable vegetables of different colours, such as:
- red, orange, yellow or green peppers
- courgettes
- butternut squash
- cherry tomatoes
- red onions
- mushrooms
- aubergines
A few tbsps olive oil
Herbs such as basil, rosemary or thyme, or dried mixed herbs
Handful of pine nuts, chickpeas or olives (optional)
For a main meal, allow per person:
80ml or 1/3 cup wholemeal couscous (measure it out in a measuring jug if you don't have a set of cups)
160ml or 2/3 cup water or vegetable stock
For a buffet dish, increase the quantities to make however much you need, using twice the amount of water per amount of couscous (but you won't need to allow that much per person if it's going to be one of many dishes).
Preheat the oven to 220°c. Pour some olive oil into a roasting dish and put in the oven to heat up. In the meantime, chop the vegetables into bite-sized chunks. Add the vegetables and herbs to the roasting dish, make sure the vegetables are well coated in the oil and roast for about 30 minutes until the vegetables are softened. Add the pine nuts, chickpeas or olives, if using. (If you're short of time you can fry the vegetables instead, but they taste nicer roasted.)
To cook the couscous, boil the water in a pan, add the couscous, remove from the heat, cover and leave to stand for about five minutes until the couscous has absorbed the water. Stir with a fork and return to the heat for about a minute.
For a main meal, serve the couscous onto a plate, spread the roasted vegetables on top and serve warm. For a buffet dish, mix the couscous and vegetables together (in the roasting dish if you like) and serve warm or cold.
7. Creamy mushroom tagliatelle with courgette, tarragon and pine nuts
Serves 2
This recipe does involve making a white sauce but I still think it counts as a 'straightforward' recipe - the sauce takes no more than five minutes to make and my method, while probably not technically 'correct', is pretty foolproof.
Dried tagliatelle pasta (not egg pasta), enough for two people
250g mushrooms
1 courgette
Handful of pine nuts
Two slices of vegan ham (optional)
For the creamy sauce:
300ml unsweetened soya milk
20g plain flour
25g margarine
1 tsp dried tarragon
Salt and pepper
Chop the mushrooms and courgettes into fairly small pieces and fry with the pine nuts until soft. If using, chop the ham into small squares and add to the mushroom mixture.
Cook the pasta according to the instructions on the pack.
To make the sauce, melt the margarine in a saucepan over a medium heat, then add the milk. Sift the flour in gradually, whisking constantly. When the flour is all added and whisked into the sauce, increase the heat and continue whisking until the sauce thickens. Add extra milk if it becomes too thick. Add the tarragon and salt and pepper to taste.
When the pasta is cooked, drain it and return to the pan. Add the mushroom mixture to the sauce, then add to the pasta, stirring well so that the pasta is coated. Reheat gently if necessary and serve.
8. Deep pan pizza
A pizza tray is useful for this recipe, they're about 99p from Tesco. If you don't have one, you can divide the dough into half and make two smaller pizzas on baking sheets. Apparently using a pizza stone is best, but I've never tried it myself.
Pizza base
350g bread flour
175-200ml lukewarm water
1 x 6g sachet fast action yeast
1 tbsp olive oil
1/2 tsp salt
2 tsp dried herbs (optional)
Sift the flour into a bowl and add the yeast, salt, olive oil and herbs if using. Make a well in the middle of the flour and gradually stir in the water. If the dough starts to get sticky, stop adding water. Knead the dough for about 10 minutes, adding more flour if it gets too sticky and more water if it's too dry. Sprinkle some flour onto the base and sides of the bowl, cover with a tea towel and leave somewhere warm for an hour for the dough to rise.
Preheat the oven to 220°c. When the dough has risen, knock the air out of it and knead for another few minutes. Roll out onto the pizza tray. Add toppings of your choice and bake for about 15-20 minutes or until the base and toppings are cooked.
Pizza sauce
Tomato sauce is the standard sauce to spread over a pizza base, you can make your own from fresh or tinned tomatoes, or use a tomato-based pasta sauce or some tomato puree.
As an alternative to tomato sauce you could spread vegan pesto or houmous over the base
Vegan pizza toppings
A few suggested combinations:
Giardinera
Asparagus spears (sliced in half lengthways), artichoke hearts, sliced flat mushrooms and pine nuts, with vegan pesto and a thin layer of tomato sauce spread onto the base. My favourite impressive pizza topping combination for serving to guests.

Hawaiian
Pineapple, vegan ham, Cheezly, mushrooms and red or green peppers

Hot and spicy
Black olives, vegan pepperoni, red chillies and red peppers
Spicy Mexican
Jalapenos, pre-cooked vegemince, chilli powder, onion, sweetcorn and red peppers
Spinaci e ricotta
Cooked spinach leaves and crumbled tofu

Sweet savoury
Sweet red peppers, pineapple, sundried tomatoes, onion, green olives and ground chilli flakes

Vegetariana (the standard vegetarian pizza topping in restaurants in Verona)
Tomato slices, cooked spinach leaves, crumbled tofu (ok, so the original was ricotta, but that's not vegan) and artichoke hearts
Or make your own combinations from:
artichoke hearts
asparagus
aubergine
basil
capers
vegan cheese (see note below)
courgette
garlic
vegan ham
dried herbs
jalapenos
leek
chestnut or button mushrooms
flat mushrooms
olives
Parmazano
vegan pepperoni
vegan pesto
red or white onion
peppers (red, orange, yellow, green or sweet pointy ones)
pine nuts
pumpkin seeds
vegan sausage slices
sauce (e.g. BBQ sauce, sweet chilli sauce)
seitan
spinach
sultanas
sundried tomatoes
sweetcorn
crumbled tofu
tofu slices or chunks
tomatoes
Vegan cheese as a pizza topping
First of all, let me say that cheese, vegan or otherwise, is not a compulsory ingredient for a tasty pizza. It may be what we're used to, but if the Italians don't need it then neither do we.
The best vegan pizza cheese I've found is super-melting Cheezly (I usually go for the mozzarella-style for pizzas). It does the best job of melting out of the cheeses I've tried and does look pretty good on pizza - a lot of vegan cheeses will go soft when heated but don't spread out and melt in the same way as dairy cheese. It melts best if you put fairly thin slices of it onto the pizza rather than grating it. I don't know for certain but it seems to me like they changed the recipe some time in 2008 to make it more melty than before, so if you've used it in the past but haven't tried it recently it's worth giving it another go.
9. Gnocchi al forno
This recipe for oven-baked gnocchi (potato dumplings) was veganised from an Italian recipe. You can buy ready-made gnocchi (check the label though as not all are vegan) but making your own isn't difficult.
Serves 2
For the gnocchi:
300g potatoes
100g bread flour
For the sauce:
300ml soya milk
1 tbsp vegan margarine
2 tbsp plain flour
salt and pepper to taste
dried herbs (optional)
Parmazano (optional)
150g chestnut or button mushrooms
BacOs (optional)
Boil the potatoes with their skins on until soft. Remove the skins and mash well, making sure to get rid of any lumps. Leave to cool. Slice the mushrooms while you're waiting. When the mash is cool, gradually sift in the flour and knead to make a dough similar to bread dough (it should hold together well and not be too sticky on the outside).
Preheat the oven to 200c. Take small lumps of dough and roll them into little oval-shaped balls about 3cm long, flouring your hands if the mixture gets sticky. For the authentic look, make ridges around the middle of the gnocchi by rolling them along the prongs of a fork (this is to make them hold sauce more effectively). Lightly coat the base of an oven-proof dish with olive oil and place the gnocchi in a single layer in the dish. Add BacOs if using.
To make the sauce, melt the margarine in a saucepan and turn the heat down to low. Add the soya milk, sift in the flour and whisk until the mixture is smooth. Increase the heat to medium, when the sauce starts to bubble whisk it until the sauce thickens. Add herbs and Parmazano if using.
Pour the sauce over the gnocchi and top with the sliced mushrooms. Place in the oven and bake for 15 minutes.
10. Lentil bolognese
Serve with pasta, jacket potatoes or as a filling for stuffed vegetables.
Makes 4 servings. Freezes well.
1 onion
2 celery sticks
2 carrots
1 x 400g tin chopped tomatoes
100g red lentils
200ml vegetable stock
2 tsp dried mixed herbs
salt and pepper
olive oil for frying
Chop the onion and celery. Heat the oil in a saucepan, add the onion and celery and fry for about 10 minutes until soft. Grate the carrots and add to the pan, followed by the tomatoes, lentils and stock. Bring to the boil, then cover and simmer for about 40 minutes until the lentils are soft and have absorbed the liquid. Add the herbs and salt and pepper to taste before serving.
11. Mushroom stroganoff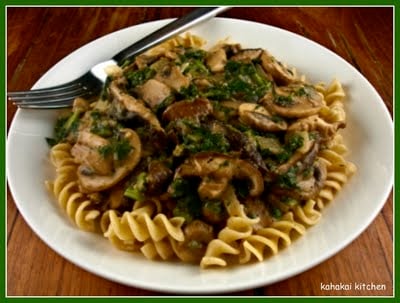 Serves 2
250-300g mushrooms of various types
2 tbsp vegan red wine
200ml soya cream
2 tbsp olive oil
1 tsp dried oregano
black pepper to taste
rice to serve
Chop the mushrooms and fry in the olive oil. Add the pepper, oregano and red wine and allow to simmer for 10 minutes. Stir in the soya cream and heat gently to serving temperature. Serve with rice.
12. Quinoa and chickpea chilli
Super-nutritious and tasty. Serves 2
100g quinoa
1 onion
1 red pepper
1 courgette
1 x 200g tin chickpeas
1 x 400g tin chopped tomatoes
150ml vegetable stock
1/2 - 1 tsp each of ground cumin, ground coriander and chilli powder (to taste)
splash of Henderson's Relish or vegan Worcestershire sauce (optional)
oil for frying
Chop the onion, pepper and courgette. Rinse the quinoa and dry fry in a saucepan for a minute or so to toast it, then remove from pan. Heat the oil and add the spices, onion, pepper and courgette and fry until the vegetables are softened. Add the tomatoes, stock, quinoa and Henderson's Relish and simmer for 30 minutes. Near the end of the cooking time, drain and rinse the chickpeas and add to the pan to heat through.
13. Red curry tofu chowder
Serves 2
200g firm tofu
2 tsp vegan Thai red curry paste (beware fish ingredients!)
approx 400g potatoes
400ml vegetable stock
2-3 spring onions
1 large handful frozen peas
1 tsp peanut butter
50ml soya milk
oil for frying
Drain the tofu and cut into cubes. Heat the oil in a saucepan, add the curry paste and fry gently for a minute. Add the tofu and fry over a medium heat for 10 minutes.
Cube the potatoes and slice the spring onions. Remove the tofu from the pan and add the potatoes, stock and spring onions. Cover and simmer for 10-15 minutes until the potatoes are soft.
Add the peas, peanut butter and tofu and cook for a further 2-3 minutes. Stir in the milk, remove from heat and serve.
14. Spicy potato and cauliflour curry
This recipe is based on the traditional Indian dish aloo gobi. This version is a dry curry but you can add tomatoes if you prefer a sauce. The ratio of potatoes to cauliflour is approximate, you can vary it if you wish.
Serves 2 as a main dish or 4 as a side dish.
300g potatoes
200g cauliflour
1 onion
1 green chilli
1/2 tsp ground coriander
1/2 tsp ground cumin
1/2 tsp ground turmeric
1/4 tsp chilli powder
1/4 tsp garam masala
vegetable oil for frying
Chop the potatoes and cauliflour into fairly small pieces. Chop the onion and fry in a saucepan for about five minutes. Add the potatoes, chilli, spices and 2 tbsp water, stir to coat the potatoes in the oil and spices, cover and fry gently for about ten minutes until the potatoes begin to soften, stirring occasionally to stop them sticking. Add the cauliflour and 1 tbsp water or some chopped fresh tomatoes, cover and fry until the potatoes and cauliflour are soft.
Serve with rice, bread or with other dishes.
Spinach, tofu and tomato stuffed pasta shells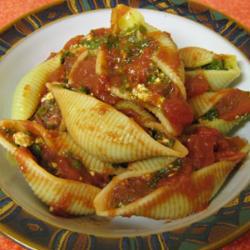 Serves 2
175g large pasta shells
250g tofu
1 tbsp white wine vinegar
1 tbsp lemon juice
2 tsp olive oil
salt and pepper to taste
500g spinach
1 tsp nutmeg
salt and pepper to taste
olive oil for frying
Tomato sauce, either home-made or a ready-made tomato pasta sauce, enough to lightly cover the shells (e.g. 1 x 400g tin tomatoes)
Preheat the oven to 200c. Cook the pasta shells according to the instructions on the pack. Make the tomato sauce if using home-made.
Finely chop the spinach (use a food processor if you have one) and fry gently with the nutmeg until softened. Add salt and pepper to taste. Crumble the tofu into small pieces in a bowl and mix in the oil, vinegar, lemon juice, salt and pepper. Add to the spinach and fry for a couple of minutes.
Lightly coat the base of an oven-proof dish with olive oil. Place some of the mixture inside each pasta shell and place in a single layer in the dish. Spoon the tomato sauce over the shells, place in the oven and bake for 15 minutes.
16. Tofu, broccoli and almond stir fry
Tofu, broccoli, kale and almonds are all very good sources of calcium. Use calcium-set tofu (such as the Cauldron brand available in most supermarkets) for extra calcium content.
Per person:
100-150g tofu
soy sauce or tamari
sesame oil
100g broccoli florets
some kale or spring greens
20g flaked almonds
groundnut or vegetable oil for frying
Sauce -
100ml vegetable stock mixed with 1/2 tsp cornflour
2 tsp peanut butter
squirt of lemon juice
fresh or ground ginger
black pepper
whole dried chillies/chilli powder (optional)
(alternatively, just throw some extra sesame oil, black pepper and ground ginger in with the vegetables)
Rice to serve (preferably brown)
Cook the rice according to the instructions on the pack.
Drain the tofu, cut into chunks and marinade in the soy sauce and sesame oil. Fry the tofu in a large frying pan or wok for about 10 minutes until it begins to go firm. Remove and set aside.
Chop the broccoli and kale, fry for a few minutes, then add the sauce ingredients and the almonds.
Re-add the tofu to heat up. Serve with the rice.
Ingredients
30 ml grapeseed oil
1 x small red chilli, diced (seeded if preferred)
2 tspn ground cumin or seeds
.5 tspn garlic powder
.5 tspn onion powder
.25 tspn ground coriander and .5 tspn sweet paprika
2 cloves garlic, crushed
1 x medium onion, diced
2 x medium carrots, peeled and sliced
400 g sweet potato, peeled and diced
2 x 400g tins black beans, drained and rinsed
1 x 400g diced tomatoes
.5 to 1 cup vegetable stock
85 g sweetcorn kernels
1 x squeeze fresh lime juice
1 handful chopped fresh coriander or continental parsley
Method
On low/medium heat in Dutch oven or heavy based saucepan, saute spices, onion, garlic and carrots in olive oil until onion is transparent – season with sea salt and black pepper (being careful not to burn the garlic). Increase heat to medium and add sweet potatoes, tossing through mixture; allow to cook briefly.
Add tomatoes and 1/2 cup of the stock, bring to the boil then simmer on low heat with lid on for 40-50 minutes until mixture has reduced and thickened and potatoes are tender. I tend to take the lid off for the last 10-15 minutes so the mixture reduces a bit. Add more stock if needed. Ten minutes before end of cooking time, add beans and corn and season further if required.
Take pan off hotplate and add lime juice and parsley or coriander. Serve with brown rice and sliced avocado.
© 2014 Majority NOT Minority Ltd - All rights reserved.
No republication of this material, in any form or medium, is permitted without express permission of the author