Vegan Recipes
Five delicious breakfasts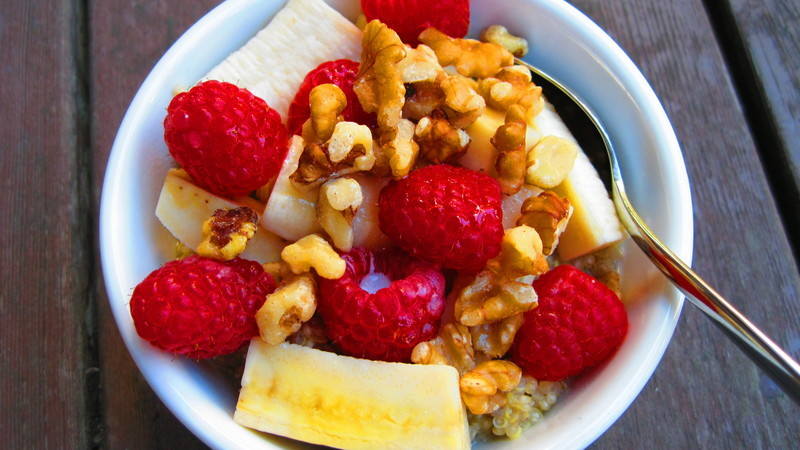 1.Fresh fruit smoothie with banana, blueberries and rice milk
2.Vegan sausages, fried mushrooms, potato wedges, tomato, baked beans and toast
3.Toast, bagel or crumpet with jam, peanut butter, yeast extract, vegan cream cheese or maple syrup. Also try scrambled tofu on toast.
4.Fruit salad with soya yogurt and a handful of nuts
5.Vegan-suitable breakfast cereal (avoiding brands with non-vegan ingredients such as milk powder, honey or vitamin D3)
Pancakes
4 oz (115g) wholemeal flour
2 oz (55g) soya flour
13 floz (375 ml) soya milk
2 tsp vegetable oil
1. Sieve the flours into a bowl. Gradually whisk in the soya milk to make a smooth sauce. Add the oil. Place in fridge for 30 minutes.
2. Drop 1-3 tbsp of the mixture in to a frying pan containing hot oil. When one side is cooked, flip over and cook the other side.
3. Remove from pan and serve with sugar and lemon juice.
Other fillings include maple syrup, chocolate sauce, soya cream, soya ice cream, stir fry vegetables drizzled with peanut sauce, cream cheese and herbs, tofu, leek and mushroom
Scrambled 'Egg' on Toast
10 oz (285g) plain tofu
2 tbsp vegetable oil
1 tsp turmeric
1 tsp herbs (chives or parsley)
salt and pepper to season
wholemeal toast spread with margarine
1. Mash the tofu evenly and fry it in the vegetable oil until evenly cooked.
2. Add the turmeric, herbs and season to taste. Cook a further few minutes. Serve on crispy wholemeal toast spread with margarine.
You can also add fried mushrooms, sweet or hot peppers, onions, garlic… anything you like… to vary the recipe
Five tasty salads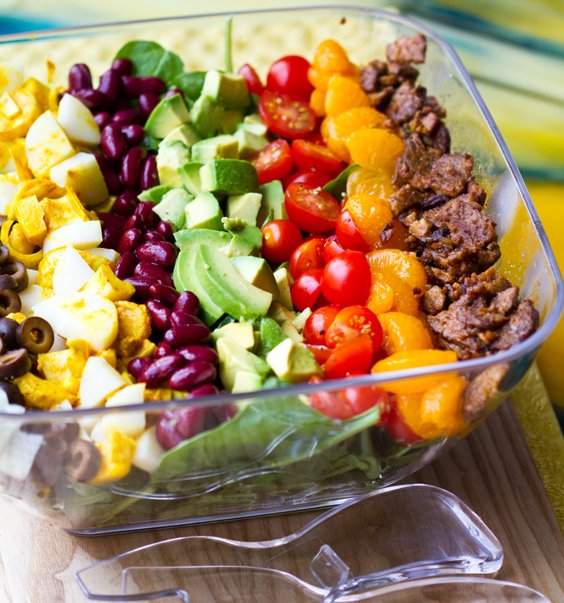 1.Apple, walnuts, celery and cucumber with vegan mayo or vinaigrette
2.Grated carrot, bean sprouts, sweet red pepper and celery with a spicy peanut sauce (peanut butter, soya sauce, chilli powder, sesame oil and garlic)
3.Tomatoes, fresh basil, olives, red onion and olive oil
4.Cucumber, vegan yogurt and fresh mint with a hint of garlic
5.Mushrooms marinated in olive oil, soya sauce and a little vinegar
Hoisin Tortilla Wraps
4 tortilla wraps
1/2 yellow pepper
1/2 red pepper
1/2 green pepper
1-2 tbsp vegetable oil
1 red onion, chopped
5oz (150g) vegan mince
7oz (200g) mushrooms, quartered
2floz (60ml) water
5 tbsp vegan Hoisin sauce
3-4 tbsp spicy tomato salsa
Salt to taste
1. Warm tortilla wraps following the packet instructions.
2. In the meantime, deseed peppers and slice into thin strips.
3. Heat oil and saute onion until softened. Add mince, mushrooms and peppers and simmer until mushrooms and peppers are cooked. Stir in water, Hoisin sauce and salsa. Adjust seasoning to taste.
4. Serve with salad and a little dish of salsa or soya yogurt on the side.
Red pepper, Courgette and 'Bacon' Mini-Quiche
Pastry: 340g (12 oz) plain wholemeal flour
170g (6 oz) margarine
water to bind
Filling: 2 medium onions
2 medium courgettes
2 medium red peppers
1 lb (450g) tofu
½ pkt Redwoods cheatin' bacon, chopped small - optional
1 level dssp mixed herbs
1½ dssp tomato puree
1 level tsp salt
generous pinch black pepper and ginger
1½ pack of vegan cheese
enough soya milk to make a paste
1. Preheat the oven to 200°C/400°F/Gas Mark 6.
2. First make the pastry by rubbing the margarine into the flour until it resembles fine breadcrumbs. Add enough water to make a dough which is soft, but not sticky. If possible place in a plastic bag in the fridge for ½ an hour.
3. Roll out the pastry and use a cutter (about 2.75 inch) to cut the pastry into rounds. Place them all onto a bun tray and bake for 10 minutes to set the pastry.
4. Now make the filling: chop the onions fairly fine; and chop the courgettes and red pepper small.
5. Fry the onions for a few minutes then add the courgettes and red pepper. Fry until they begin to soften.
6. Cube the tofu and chop the 'bacon' into bits. Add the tofu, 'bacon', herbs, tomato puree and condiments and fry a bit longer.
7. Take off the heat and add the cheese and enough soya milk to make a paste.
8. Place about a heaped teaspoon into each mini-quiche. Bake for about 30 minutes.
Makes about 50 delicious mini-quiches.
Curry Aloo (Potato)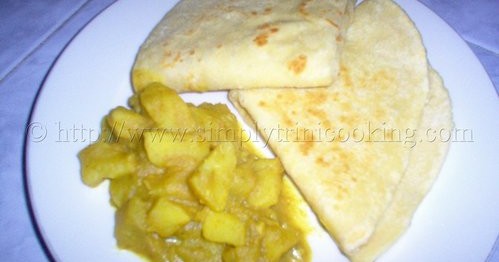 Ingredients
1 lb. Potato, peeled and sliced
1 medium-sized onion, sliced
3 cloves garlic, minced
1 ½ tsp. curry powder
½ tsp. Salt
Water
Hot pepper to taste
1 tbsp. olive oil
Method
Step 1
Heat oil in a heavy pot. Sauté onion and garlic. Mix curry with ¼ cup water and add to onion and garlic. Cook for a few minutes until thick.
Step 2
Add potatoes to the curry and stir until the curry coats the potato; add salt and pepper and continue to cook for a few minutes.
Step 3
Stir in water. Cover the pot and lower heat. Cook the potatoes until they are tender and liquid has thickened. Season to taste.
Click here for step by step recipe with pictures.
Chickpea and Mushroom Curry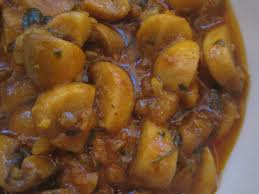 1 large onion, chopped
Vegetable ghee or oil
2 cloves garlic, crushed
2 large tomatoes, chopped
Salt
1 tsp turmeric powder
1 tsp garam masala
Chilli powder or finely sliced red chilli to taste
1 tin (420g) chickpeas, drained
1lb2oz (500g) mushrooms, sliced
2 tbsp water
2-3 tbsp coriander leaves, chopped
1. Fry onion in vegetable ghee until soft. Add garlic and chopped tomato. After 2-3 minutes stir in a pinch of salt and the spices. Add sliced chilli, chickpeas, mushrooms and water. Simmer with the lid on until mushrooms are soft.
2. Mix half the chopped coriander leaves into the dish and sprinkle the rest on top before serving. Season to taste.
If you prefer more sauce add some tomato puree with a little vegetable stock and adjust the seasoning.
Black Beans and Rice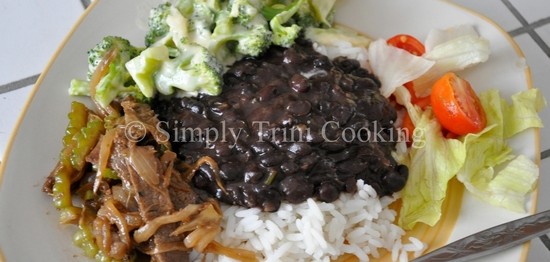 Ingredients
1 cup black beans
1 small onion
2 cloves garlic
1/4 cup chive, chopped
4 cups water
1 tbsp. parsley
2 sprigs fine leaf thyme
1 tbsp. chopped celery
1/2 tbsp. tomato paste or ketchup
1 tbsp. sugar
2 tbsp

coconut oil

Salt to taste (optional)
Method
Step 1
Tips: Precooking Directions for Black Beans: 1. Sort and rinse the beans. Pick of any stones, sticks, or shrivelled or discoloured beans. Wash in a bowl of water and discard beans that float to the top. Rinse the beans. 2. Soaking Beans I've found it is always best to pre-soak beans overnight before use. Cover the beans with water – for every 1 cup of beans cover with 4 cups of water. Throw out the water and place beans in a pot. Add fresh water and cook. Note, you can "quick-soak" beans in a large saucepan. Add the water and allow to boil. Remove from fire, cover and allow to stand for 1 hour.
Step 2
Now that you have pre-soaked the beans, it is time to begin cooking. I usually pressure cook my beans since I really don't have time to wait hours for the beans to cook.
Step 3
Saute the onion and garlic in oil.
Step 4
Add the black beans. Simmer for two minutes… then add the water. Pressure cook beans for 30 to 35 minutes.
Step 5
Once the beans are cooked at the herbs. Add the chopped chive. Then the chopped celery, fine leaf thyme, and parsley. You can also add some of your favourite herbs as well. Add the green seasoning.
Step 6
Add salt to taste. Once the herbs are added leave to simmer for 5 minutes and remove. Serve hot with boiled or steamed rice. Note: You can also saute 1 tbsp. onion and 1 clove of garlic and add it to the black beans for added flavour afterward.
Click here for step by step recipe with pictures.
Stew
2 1/2 pints (1.4 litres) vegetable stock
3 cloves garlic, crushed
2 onions, chopped
1 lb (450g) sweet potato, peeled and diced
1 x 400g tin chick peas
6 oz (170g) millet
Approximately 1 tbsp soya sauce
4 oz (115g) peanut butter
3 oz (85g) chopped kale
Juice of 1 lemon
1. Heat a large saucepan and add 1-2 tablespoons of vegetable stock. Add garlic and onion and saute until soft.
2. Add the rest of the stock, sweet potatoes, chick peas, millet and a drop or two of soy sauce. Simmer for 20 minutes.
3. Remove some of the stew liquid from the saucepan, blend with peanut butter and return to the saucepan.
4. Add the kale and cook for 5 min. Season to taste with lemon juice and soya sauce, adding a little at a time. Serves 4.
Trini Red Beans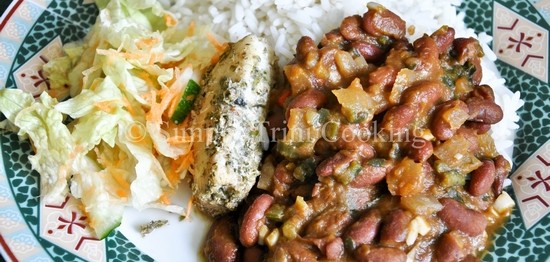 Ingredients
1 cup rice
1 cup red beans ( kidney beans)
2 pime2 pimento pepper (seasoning peppers)
1 medium onion, chopped
1/2 cup diced pumpkin
3 cl3 cloves garlic, peeled and chopped
6 leaves chadon beni, chopped
2 tbsp green seasoning
2 sprigs fine leaf thyme
1 stalk celery
1 tsp black pepper
1 tsp sugar (optional)
1 tbsp. tomato paste
Salt to taste
Method
Step 1
Boil rice. Strain and set aside .
Step 2
Clean and wash the red beans. Place in a deep pot and add hot water. Soak for 15 minutes.
Step 3
Chop the onion, celery, pumpkin, and pimento pepper. Finely dice the rest of the herbs.
Step 4
Put the beans to boil. Then add the chopped pumpkin, onion, garlic, celery and pimento pepper. Note: You may have to add about a cup of water and simmer for 5 minutes. Then cover and pressure cook for 30 minutes or until the beans are soft.
Step 5
When the red beans are good enough, place in a separate pot and continue cooking. Add the chopped chadon beni, big leaf thyme and fine leaf thyme to the pot.
Step 6
Allow to simmer for another 5 minutes. Add the tomato paste, then the green seasoning, the optional sugar, and salt for taste. Allow to simmer until the excess water evaporates. Remove and serve with rice.
Click here for step by step recipe with pictures.
Butter Beans and Mushrooms in White Wine Sauce
8 oz (225g) butter beans, soaked overnight
2 tbsp vegetable oil
1 large onion, finely chopped
2 garlic cloves, crushed - optional
10 oz (285g) mushrooms, washed and sliced
1/4 tsp cayenne pepper
1/2 tsp paprika
Sauce
1 1/2 oz (45g) margarine
1 1/2 oz (45g) flour
3/4 pint (425ml) soya milk
1/4 pint (140ml) vegan white wine
3 tbsp fresh parsley, chopped
1 tsp grain mustard
Black pepper and salt to taste
1. Bring some water to the boil and simmer beans for approximately 45 minutes, until tender. Drain and set aside.
2. Heat the oil in a frying pan and fry onion and garlic until golden brown. Add mushrooms, cayenne pepper and paprika to pan. Continue frying for a few minutes more and set aside.
3. In a large saucepan melt the margarine and stir in the flour to make a roux. Remove from the heat. Gradually add a little of the soya milk to make a smooth paste.
4. Over a moderate heat whisk in the rest of the soya milk and white wine, then stir in the parsley and mustard. Bring to the boil and simmer for 3 minutes. Then add the bean mixture and additional soya milk if required. Season to taste and stir well.
5. Serve hot over pasta or brown rice, with a side salad. Serves 4.
Chick Pea Tagine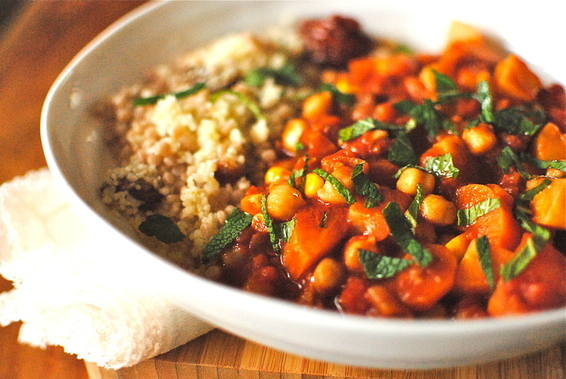 4 tbsp vegetable oil
1 tsp cumin seeds
2 dried red chilli
2 medium leek, roughly chopped
4 cloves garlic, crushed
2 small glass orange juice
2 x 14 oz (400g) can chopped tomatoes
12 dried apricots, chopped
1 lb (450g) pre-cooked chick peas
1 bay leaf
Salt to taste
Generous handful chopped coriander
1. Heat the oil then add the seeds and chilli. When the seeds start to emit their distinctive odour, add the leek and garlic. Saute for a few minutes.
2. Pour in the orange juice and allow to cook for a few seconds or more until some of it has evaporated.
3. Add the tomatoes along with the apricots, chick peas, bay leaf and salt to taste. Bring to the boil then turn down and simmer for 30 minutes uncovered.
4. Remove the chilli and bay leaf then stir in the coriander. Serve with rice. Serves 4.
Spinach Quiche
Pastry
8 oz (225g) wholemeal flour
Good pinch of salt
4 oz (115g) very cold vegan margarine
Approx. 2 tablespoon cold water
Filling
1 lb (450g) fresh spinach, washed and shredded
2 tbsp vegetable oil
1 large onion, chopped
4 oz (115g) mushrooms, sliced
12 oz (340g) tofu, pressed to remove excess water
1/2 tbsp dried dill, or to taste
Fresh parsley
Seasoning to taste
2 tbsp sunflower seeds
1. Start with the pastry: sift together flour and salt. Use finger tips to rub in the margarine until the mixture resembles breadcrumbs. Add just enough cold water to bind it to a dough, then wrap in cling film and leave in the fridge for 30 minutes.
2. Meanwhile, cook the spinach gently in a saucepan in a minimum of water, or preferably steam it, until just soft.
3. Heat the oil and fry the onion until it begins to soften, then add the mushrooms and cook for a few minutes more.
4. Either mash the tofu, or blend it to make a thick puree. Add dill, plenty of finely chopped parsley and seasoning. Stir in the mushroom mixture and spinach.
5. On a floured board roll out the pastry, then use it to line a medium-sized flan dish (or ring standing on a baking sheet). Pour in the tofu, spinach and mushroom mixture, smooth the top and sprinkle with seeds.
6. Bake at 190C/375F/gas mark 5 for about half an hour, or until the pastry is crisp. Serve hot. Serves 4.
Vegan Cheese and Spinach Pie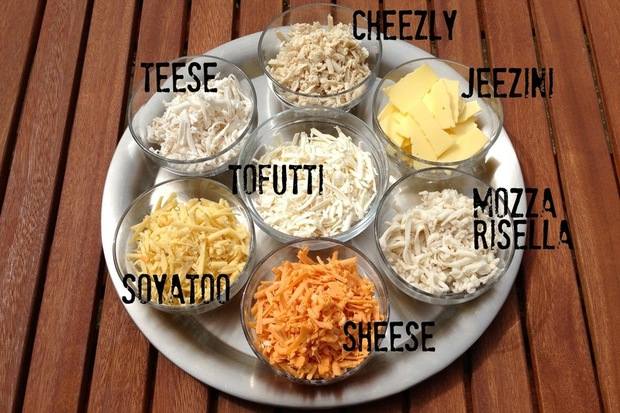 14 oz (400g) spinach, tinned or fresh
4oz (115g) tofu, crumbled
1 dssp vegetable bouillon
1 tbsp vegetable oil
1 small onion, chopped
5 oz (150g) mushrooms, sliced
5 oz (150g) sweetcorn
1/2 pkt vegan cheese, grated
13 oz (375g) vegan puff pastry
1. Preheat the oven to 400F/200C/gas mark 6.
2. Prepare the spinach. If using tinned spinach, drain the spinach really thoroughly, squeezing the water out. If using fresh spinach, wash thoroughly and steam for 2 minutes. Place in a bowl and knead the tofu and veg bouillon into the spinach with your hands (do not use a processor). The tofu should end up as small flecks.
3. Fry the onion for a few minutes in the oil until translucent. Add the mushrooms and cook for a further 5-10 minutes.
4. Roll 1 lb 2 oz/500g of the puff pastry to fit a fairly large pie dish. It should go up the sides as well. Then in layers - and in the following order - place the spinach mix, sweetcorn (which can be fresh, tinned or frozen) and mushroom mix. Finish off with the grated cheese.
5. Roll the remaining pastry so that it fits the top. Moisten with water around the edges so it sticks to the bottom pastry. Pierce some holes into the pastry with a fork. Bake for about 30 minutes or until fairly well browned. Serves 4.
Plaintain and Spinach Curry
2 tsp vegetable oil
2 plantain, peeled and sliced
2 small onions, chopped
3 cloves of garlic, crushed
1 1/2 inch root ginger, peeled and grated
1 red chilli, finely chopped
Salt to taste
2 cans of spinach, thoroughly drained
A good fistful of fresh coriander, chopped
1. Fry the plantain over a med-high heat until golden.
2. Add the onion, garlic, ginger, chilli and salt. Fry for a couple of minutes, then add the drained spinach.
3. Cover and cook for 20-30 minutes, stirring occasionally and adding a little water if required. When ready, throw in the coriander, stir and serve with rice. Serves 4.
Sweet Pepper Marmalade
2 tbsp vegan margarine
2 red peppers
2 green peppers
2 yellow peppers
2 garlic cloves, crushed
1 tbsp tomato puree
salt & pepper
1 tsp sugar to taste
1. Finely slice peppers and saute in margarine with garlic until soft. Add tomato puree, salt, pepper and sugar.
Green Fig Souse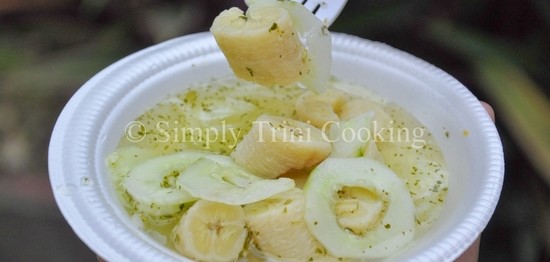 Ingredients
1 hand fig (about 12 bananas)
1 hot pepper
1 tbsp. coconut oil
1 med onion
1/2 cup lime juice
16 leaves chadon beni, chopped
8 cloves garlic, chopped
2 tbsp salt or to taste
Method
Step 1
Wash, mark fig and boil in water with 1 tbsp. oil.
Step 2
Note: The oil is added to prevent the fig staining the pot. Chop and blend the garlic, pepper and chadon beni in 1/2 cup water and 1 tbsp. salt.
Step 3
Test the fig to see if it is cooked by sticking it with an ice pick or knife. Allow to cool under running water then peel and cut up in a large bowl.
Step 4
Wash and peel the cucumber then slice. Slice the onion. hen add the lime juice.
Step 5
Soak in 5 cups water. Add 6 tbsp. of the chadon beni mixture, 2 tbsp of salt and stir. Soak for 3 to 4 hours at room temperature. Note 1: This souse you can refrigerate since it is plant based and doesn't have gelatin. Note 2: Nutrition facts does not include salt. This ingredient can be varied.
Click here for step by step recipe with pictures.
Your Basic Chocolate Cupcake
8floz (230ml) soya milk
1 tsp vinegar
5oz (140g) caster sugar
3floz (90ml) vegetable oil
1 1/2 tsp vanilla extract
4oz (125g) plain flour
1 1/2 oz (45g) cocoa powder
3/4 tsp bicarbonate of soda
1/2 tsp baking powder
1/4 tsp salt
1. Preheat oven to 350F/175C/gas mark 4 and line muffin pan with paper or foil liners.
2. Whisk together soya milk and vinegar in a large bowl and set aside for a few minutes to curdle. Add sugar, oil and vanilla extract and beat until foamy.
3. In a separate bowl sift together flour, cocoa powder, bicarbonate of soda, baking powder and salt. Add in two batches to wet ingredients and beat until no large lumps remain (a few tiny lumps are okay).
4. Pour into liners, filling three quarters of the way. Bake 18 to 20 minutes until a toothpick inserted into the centre comes out clean. Transfer to cooling rack. Eat while still warm or allow to cool completely
© 2014 Majority NOT Minority Ltd - All rights reserved.
No republication of this material, in any form or medium, is permitted without express permission of the author