Religious Observed Dates
This page details the religious events, days/observances that take place dependant on religion and region.
Celebratory religious dates/events listed on this page include those from Bahai, Buddhist, Christian, Hindu, Jewish, Rastafarianism and more...
Personally I love learning about other cultures and I hope this page proves useful in at least enlightening you as to what dates are considered 'respected' in other religions...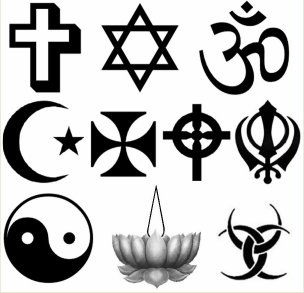 Holy days usually begin at sundown the day before this date.
Local or regional customs may use a variation of the date noted.
List of Religious Holidays of Buddhist in 2020
List of Religious Holidays of Christian in 2020
DAY
DATE
HOLIDAY

Monday

Mon

Jan 06, 2020

Jan 06

Epiphany

Sunday

Sun

Jan 12, 2020

Jan 12

The Baptism of Jesus

Sunday

Sun

Feb 02, 2020

Feb 02

Candlemas

Friday

Fri

Feb 14, 2020

Feb 14

St. Valentine's Day

Wednesday

Wed

Feb 26, 2020

Feb 26

Ash Wednesday

Tuesday

Tue

Mar 17, 2020

Mar 17

St. Patrick's Day

Thursday

Thu

Mar 19, 2020

Mar 19

St. Joseph's Day

Sunday

Sun

Apr 05, 2020

Apr 05

Palm Sunday

Thursday

Thu

Apr 09, 2020

Apr 09

Maundy (Holy) Thursday

Friday

Fri

Apr 10, 2020

Apr 10

Good Friday

Sunday

Sun

Apr 12, 2020

Apr 12

Easter

Monday

Mon

Apr 13, 2020

Apr 13

Easter Monday

Thursday

Thu

Apr 23, 2020

Apr 23

St. George's Day

Thursday

Thu

May 21, 2020

May 21

Ascension of Jesus

Sunday

Sun

May 31, 2020

May 31

Pentecost

Sunday

Sun

Jun 07, 2020

Jun 07

Trinity Sunday

Thursday

Thu

Jun 11, 2020

Jun 11

Corpus Christi

Monday

Mon

Jun 15, 2020

Jun 15

Saint Vladimir

Monday

Mon

Jun 29, 2020

Jun 29

Saints Peter and Paul

Saturday

Sat

Jul 25, 2020

Jul 25

St. James the Great Day

Saturday

Sat

Aug 01, 2020

Aug 01

Lammas

Saturday

Sat

Aug 15, 2020

Aug 15

The Assumption of Mary

Monday

Mon

Sep 14, 2020

Sep 14

Holy Cross Day

Tuesday

Tue

Sep 29, 2020

Sep 29

Michael and All Angels

Saturday

Sat

Oct 31, 2020

Oct 31

All Hallows Eve

Sunday

Sun

Nov 01, 2020

Nov 01

All Saints' Day

Monday

Mon

Nov 02, 2020

Nov 02

All Souls' Day

Sunday

Sun

Nov 22, 2020

Nov 22

Christ the King

Thursday

Thu

Nov 26, 2020

Nov 26

Thanksgiving (USA)

Sunday

Sun

Nov 29, 2020

Nov 29

Advent - first Sunday

Monday

Mon

Nov 30, 2020

Nov 30

St. Andrew's Day

Sunday

Sun

Dec 06, 2020

Dec 06

St. Nicholas Day

Thursday

Thu

Dec 24, 2020

Dec 24

Christmas Eve

Friday

Fri

Dec 25, 2020

Dec 25

Christmas

Monday

Mon

Dec 28, 2020

Dec 28

Holy Innocents

Thursday

Thu

Dec 31, 2020

Dec 31

Watch Night
List of Religious Holidays of Hindu in 2020
DAY
DATE
HOLIDAY

Wednesday

Wed

Jan 15, 2020

Jan 15

Makarsankranti / Pongal

Wednesday

Wed

Jan 29, 2020

Jan 29

Vasant Panchami

Saturday

Sat

Feb 08, 2020

Feb 08

Thaipusam

Friday

Fri

Feb 21, 2020

Feb 21

Maha Shivaratri

Monday

Mon

Mar 09, 2020

Mar 09

Holika Dahan

Tuesday

Tue

Mar 10, 2020

Mar 10

Holi

Wednesday

Wed

Mar 25, 2020

Mar 25

Ugadi / Gudi Padwa / Telugu New Year

Wednesday

Wed

Mar 25, 2020

Mar 25

Hindi New Year

Thursday

Thu

Apr 02, 2020

Apr 02

Ramanavami

Wednesday

Wed

Apr 08, 2020

Apr 08

Hanuman Jayanti

Tuesday

Tue

Apr 14, 2020

Apr 14

Vaisakhi / Baisakhi / Vishu

Tuesday

Tue

Apr 14, 2020

Apr 14

Bengali New Year / Bihu

Tuesday

Tue

Apr 14, 2020

Apr 14

Tamil New Year

Sunday

Sun

Apr 26, 2020

Apr 26

Akshaya Tritiya

Friday

Fri

May 22, 2020

May 22

Savitri Pooja

Tuesday

Tue

Jun 23, 2020

Jun 23

Puri Rath Yatra

Sunday

Sun

Jul 05, 2020

Jul 05

Guru Purnima

Saturday

Sat

Jul 25, 2020

Jul 25

Nag Panchami

Friday

Fri

Jul 31, 2020

Jul 31

Varalakshmi Vrat

Monday

Mon

Aug 03, 2020

Aug 03

Raksha Bandhan

Tuesday

Tue

Aug 11, 2020

Aug 11

Krishna Janmashtami

Saturday

Sat

Aug 22, 2020

Aug 22

Ganesh Chaturthi

Monday

Mon

Aug 31, 2020

Aug 31

Onam

Wednesday

Wed

Sep 16, 2020

Sep 16

Vishwakarma Puja

Thursday

Thu

Sep 17, 2020

Sep 17

Mahalaya Amavasya

Saturday

Sat

Oct 17, 2020

Oct 17

Navaratri begins

Saturday

Sat

Oct 24, 2020

Oct 24

Navaratri ends / Maha Navami

Sunday

Sun

Oct 25, 2020

Oct 25

Dusshera

Friday

Fri

Oct 30, 2020

Oct 30

Sharad Purnima

Wednesday

Wed

Nov 04, 2020

Nov 04

Karwa Chauth

Friday

Fri

Nov 13, 2020

Nov 13

Dhan Teras

Saturday

Sat

Nov 14, 2020

Nov 14

Diwali

Monday

Mon

Nov 16, 2020

Nov 16

Bhai Dooj

Friday

Fri

Nov 20, 2020

Nov 20

Chhath Puja

Monday

Mon

Nov 30, 2020

Nov 30

Kartik Poornima

Tuesday

Tue

Dec 15, 2020

Dec 15

Dhanu Sankranti

Friday

Fri

Dec 25, 2020

Dec 25

Geeta Jayanti
List of Religious Holidays of Islam in 2020
| DAY | DATE | HOLIDAY |
| --- | --- | --- |
| Sunday | Mar 22, 2020 | Lailat al Miraj |
| Tuesday | Apr 21, 2020 | Lailat al Bara'ah |
| Wednesday | Apr 22, 2020 | Ramadan (start) |
| Tuesday | May 19, 2020 | Laylat al Qadr |
| Sunday | May 24, 2020 | Eid-al-Fitr (End of Ramadan) |
| Friday | Jul 31, 2020 | Eid-al-Adha |
| Monday | Aug 10, 2020 | Waqf al Arafa - Hajj |
| Thursday | Aug 20, 2020 | Hijra - Islamic New Year |
| Sunday | Aug 30, 2020 | Day of Ashura / Muharram |
| Friday | Oct 30, 2020 | Milad un Nabi |
| Tuesday | Nov 03, 2020 | Milad un Nabi (Shia) |
List of Religious Holidays of Jewish in 2020
| DAY | DATE | HOLIDAY |
| --- | --- | --- |
| Tuesday | Jan 21, 2020 | Tu Bishvat |
| Tuesday | Mar 10, 2020 | Purim |
| Wednesday | Mar 11, 2020 | Shushan Purim |
| Wednesday | Apr 08, 2020 | Passover - First Day |
| Thursday | Apr 16, 2020 | Passover - Final Day |
| Tuesday | Apr 21, 2020 | Yom Hashoah |
| Tuesday | Apr 28, 2020 | Yom HaZikaron |
| Wednesday | Apr 29, 2020 | Yom HaAtzma'ut |
| Friday | May 08, 2020 | Second Passover |
| Tuesday | May 12, 2020 | Lag BaOmer |
| Friday | May 22, 2020 | Yom Yerushalayim |
| Friday | May 29, 2020 | Shavuot (1st day) |
| Saturday | May 30, 2020 | Shavuot |
| Thursday | Jul 30, 2020 | Tish'a B'Av |
| Saturday | Sep 19, 2020 | Rosh HaShana Starts |
| Sunday | Sep 20, 2020 | Rosh HaShana Ends |
| Monday | Sep 21, 2020 | Fast of Gedaliah |
| Monday | Sep 28, 2020 | Yom Kippur |
| Saturday | Oct 03, 2020 | Sukkot Starts |
| Friday | Oct 09, 2020 | Sukkot Ends |
| Saturday | Oct 10, 2020 | Shmini Atzeret |
| Sunday | Oct 11, 2020 | Simchat Torah |
| Friday | Dec 11, 2020 | Hanukkah Starts |
| Friday | Dec 18, 2020 | Hanukkah Ends |
List of Religious Holidays of Sikh in 2020
| DAY | DATE | HOLIDAY |
| --- | --- | --- |
| Sunday | Jan 05, 2020 | Guru Gobind Singh Birthday |
| Tuesday | Jan 14, 2020 | Maghi - Lohri |
| Tuesday | Mar 10, 2020 | Holi |
| Tuesday | Mar 17, 2020 | Hola Mohalla |
| Tuesday | Apr 14, 2020 | Vaisakhi |
| Saturday | Apr 18, 2020 | Birthday of Guru Angad Dev |
| Tuesday | Jun 16, 2020 | Martyrdom of Guru Arjan Dev Sahib |
| Tuesday | Oct 20, 2020 | Birth of the Guru Granth |
| Saturday | Nov 14, 2020 | Diwali |
| Tuesday | Nov 24, 2020 | Martyrdom of Guru Tegh Bahadur Sahib |
| Monday | Nov 30, 2020 | Guru Nanak Birthday |
© 2020 Majority NOT Minority Ltd - All rights reserved.
No republication of this material, in any form or medium, is permitted without express permission of the author